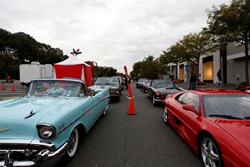 Manhasset, NY (PRWEB) August 22, 2013
Americana Manhasset is pleased to announce that Wayne Carini, noted collector-car archeologist, and host of Velocitys CHASING CLASSIC CARS will be the Master of Ceremonies for the 9th Annual Americana Manhasset Concours DElegance, which takes place on Sunday, October 20.
The event has grown into one of New Yorks premier luxury car events featuring 150 rare, privately owned cars that compete for Best in Class as well as Best in Show titles. Official judging begins at 9:30. The results of the competition and the award presentation, courtesy of Tiffany & Co., will take place at 2 p.m. on the north side of the Americana Manhasset.
The Americana Manhasset Concours is unique for the caliber of cars that are on the field, as well as for the location. The event draws from the origins of Concours events, in which cars of the day served as a backdrop for the latest fashions, notes Mr. Carini. This event is exciting because it showcases a range of cars from pre-war to one-off supercars in a spectacular, modern fashion setting.
The 2013 event will also be the East Coast debut of the P 4/5 Competizione which finished First in Class 12 OA at the 2012 24 Hours of Nurburgring.
This year, the Concours will benefit Sunrise Day Camp through the purchase of raffle tickets to win a 2013 Maserati Quattroporte V-6 courtesy of Maserati of Long Island. Sunrise Day Camp is the only dedicated camp in the nation for children with cancer and their siblings, where summer camp and year-round programs are provided free of charge. To purchase tickets please call 516.634.4148 or visit http://www.sunrisedaycamp.org .
Sponsors for this years event include Tri-State Cadillac Dealers, Deutsche Bank, New York Cottages and Gardens, Plycar Automotive Logistics, Safavieh and Shawn Elliott Luxury Homes and Estates. Automotive partners include Autosport Designs, Biener Audi, Jaguar of Great Neck, Long Island Sports Cars, Manhattan Motorcars, Maserati of Long Island, Long Island Sports Cars and Roslyn Porsche. Hospitality sponsors include Bar Frites Restaurant, Bryant & Cooper Steak House, Cipollini, Mo