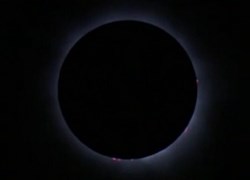 Santa Fe, New Mexico (PRWEB) October 01, 2013
Seven Directions Custom Tours is announcing a new astronomy tour to the best location in the USA for observing the 2017 Total Solar Eclipse. The 2017 eclipse will be the first to cross the United States coast to coast since 1918. After 2017, the next Total Solar Eclipse will take place in 2045.
On August 21, 2017, near Nashville, TN excited observers from around the world will gather to gaze upon the Total Solar Eclipse for a staggering 2 minutes 40 seconds while the sun is completely obscured by the moon. A small village near Nashville, TN that serves as a Mecca for eclipse lovers will be the spot with the best and longest view of this once-in-a-lifetime astronomical event.
Seven Directions has led several explorations throughout the Southwest for travelers and experts interested in the amazing dark skies of the region as well as observatories located along the way. Because the Total Solar Eclipse of 2017 is not visible from the Four Corners area, Seven Directions Tours has arranged an all-inclusive tour in and around Nashville, TN the site astronomers have identified as providing the best view of the eclipse.
Before viewing the eclipse, guests will be treated with visits to area observatories, lectures by renowned astronomers, and some pleasant time exploring Nashville a city known for its vibrant cultural, musical exploits and culinary scene.
The full program will offer options for visiting additional astronomy sites and meetings with experts in different states as a lead up to the Total Solar Eclipse. The full program will be available in late 2014.
This tour will include travelers from around the world and will fill up quickly. Early-bird reservations are accepted starting in 2014.
For further information and media inquiries: Patrizia Antonicelli Tel.505.820.3305.
About Seven Directions Tours:
Offering over 9 years of experience in the Southwest, Seven Directions | Cultural and Sustainable Tours http://www.sevendirections.net has established itself as one of the finest sustainable tour operators in the Southwest and caters to a wide-ranging audience looking for hands-on experience that can put them in touch with the landscape and the people. Seven Directions Tours caters to large and small groups, and individuals.
About the 2017 Total Solar Eclipse:
On August 21, 2017 an astronomical event known as a total solar eclipse will occur as the moon passes between the earth and the sun. A total solar eclipse occurs when the moons diameter appears larger than the sun. The result is a blockage of all sunlight, turning day into night. While partial and lunar eclipses are fairly common, total solar eclipses are rare. The last total solar eclipse with a path of totality crossing the United States occurred in 1918, in addition to the 2017 event, the next total solar eclipse with totality will not take place until 2045.