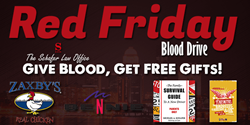 Louisville Ky (PRWEB) November 15, 2013
The Schafer Law Office will to be hosting a blood drive on November 29, Black Friday, at the Palace Theater in Louisville Ky. The goal of the blood drive is to make Black Friday a Red Friday. Mike Schafer is partnering with the American Red Cross to secure as many pints of blood donations as possible.
That same night at the Palace is The Faces Series concert with some local great bands, which includes The Tunesmiths, The Badreeds El Roosters and Woodrow on the Radio.
For anyone who is donating blood, The Schafer Law Office has secured some special gifts as a thank you to those who participate.