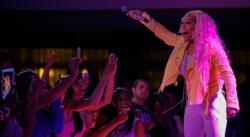 Arlington, VA (PRWEB) June 10, 2013
Twitter Pitch: @KeyshiaCole and @BooBysWorld1 participate in their 1st USO visit to Germany to honor, salute and celebrate troops & their families
A day after performing in Amsterdam in promotion of her latest album Woman to Woman, multi-platinum recording artist Keyshia Cole was back at it again but this time for a cause. In honor and celebration of Americas Armed Forces, the four-time Grammy nominated singer/songwriter performed a free, private USO show for troops and their families at Vogelweh Air Base in Germany on Saturday, June 8. Joining Cole for the morale-boosting visit was her husband, Cleveland Cavalier shooting guard Daniel Gibson.
Details:
Following the 9 p.m. USO concert, which was attended by hundreds of servicemen and women and their families, Cole and Gibson met with and posed for photos with military fans.
This was the first USO experience for both Cole and Gibson.
An avid supporter of troops and their families, Cole performed a show for soldiers stationed at Fort Dix on July 4, 2008.
Bursting onto the music scene in 2005 with such memorable hits as I Should Have Cheated and (I Just Want It) To Be Over, Cole has worked with countless music artists from Jadakis, Missy Elliott, Diddy and T.I. to Nicki Minaj, Lil Wayne and Robin Thick. With her second reality show Family First under her belt, Cole has released five studio albums. Her latest album, Woman to Woman, was released in November 2012 and debuted at no. ten on the Billboard album charts.
Coming up, Cole will rock out at the Mercedes-Benz Superdome in Louisiana for the 2013 Essence Music Festival on July 7.
The USO strives to deliver life-changing experiences for troops and their families around the world, like this Keyshia Cole USO concert at Volgelweh Air Base. Visit uso.org/honor-salute-celebrate between Memorial Day and the Fourth of July to learn ways you can help the USO honor, salute and celebrate the accomplishments and valor of our deployed troops, military families, wounded, ill and injured troops and their caregivers and families of the fallen.
Quotes:
Attributed to Keyshia Cole:
I have such a profound respect for our troops and their families stationed all over the world whether they are in the Middle East or here in Europe. I feel so blessed to do what I love for a living and am grateful to the USO for the opportunity to perform for troops and show them some love before going back out onto the road again.
Attributed to Daniel Gibson:
I am so proud of my wife and all of her accomplishments in music and in life. It is an honor to stand beside her and support her everyday, but especially on a day like Saturday when we honored, saluted and celebrated our troops and their families through music and our actions. That day was special and we hope to link up with the USO again very soon.
MULTIMEDIA:
USO Photos: http://bit.ly/14lUVV9