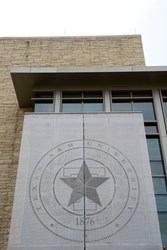 Cambridge, MD (PRWEB) October 29, 2013
Cambridge Architectural announces its first large tensioned rigid mesh system, installed at Texas A&M University in College Station. The Cambridge stainless steel application offers solar shading to the Memorial Student Center, which houses the schools Box Office, art gallery, KANM Student Radio, and more.The tensioned panels dramatically reduce solar heat gain cutting cooling costs for the facility. The system also provides transparency, making daylight available inside and allowing the students to see outside. The inherent nature of mesh allows it to shade the sun without blocking the view through the windows.
Cambridges metal mesh can also be found in the virtually maintenance-free handrail infills, which offer unmatched durability and endurance to scratches and dents typically unavoidable by the approximately 50,000 students that potentially travel these stairwells. Cambridges mesh maintains its structure while providing an added layer of security that accentuates the staircase beautifully.
The impressive solar shade provides a unique and modern visual with function, says Heather Collins, Director of Marketing for Cambridge Architectural. We wanted to contribute something inspiring for those entering into the United States of America, and we couldnt be more proud of the beautiful and functional systems that we, along with the architect, were able to create.
Both systems were fabricated with mesh in Cambridges Graph pattern, which features rigid, open weaves. Cambridges custom modified eclipse system hardware provides tailored edges for expanses of metal fabric. Elegant, custom cut apertures receive the metal fabric ends in tubing that is integrated into a bracket and structural support design. The tube provides a visual reveal between panel lengths and tube sizes may vary to emphasize or de-emphasize the attachment.
The function was key, but the aesthetic of the mesh was what drew us to Cambridge, says Vance Cheatham, Design Principal of Perkins + Will, the architect of the project. The refinement the system brings to the student center is exactly what we hoped to achieve.
Cambridge is committed to assisting the design and construction team from initial concept to final installation on each and every project. For the Texas A&M University MSC project, Cambridge and Perkins + Will developed an ideal system to address all the visual and functional needs of the site.
The longevity, lifecycle and durable construction from hand-woven Cambridge Architectural metal mesh systems stainless steel make it a worry-free element. All Cambridge systems incorporate recycled content and are 100% recyclable. Cambridge Architectural is an active member of the USGBC